WINTER MOUNTAIN LEADER TRAINING AND ASSESSMENT COURSES
We are pleased to be able to offer WML Training and Assessment courses, all run under the direction of one of the UK's foremost ML Course Directors, along with an expanded range of dates.
During recent seasons Pete has been the UK's busiest WML Training and Assessment Course Director.
The quality and value-for-money of all of our courses reflects this high level of experience.  We are pleased to be the only UK Winter ML provider recommended by World Challenge expeditions to their expedition leaders.  Our course prices are the most competitive in the UK and our course quality second to none.
WML course requirements
Candidates must be registered with Mountain Training Scotland. You must also hold the Summer Mountain Leader Certificate, and comply with syllabus requirements. Please remember, if you have any questions about any training or assessment courses, feel free to either email us or or give us a call on 01340 871071. We'll be very happy to help.
Location
The course will be based at Badaguish Outdoor Centre, part way between Aviemore and Cairngorm Mountain. Badaguish offers various accommodation options on site such as a camp site with a good drying room, affordable and comfortable wigwam rooms and larger chalets. Accommodation can be viewed and booked on their website. Once you have booked your course, if you wish to stay at Badaguish there will be a discount code available which will give you 15% off their Wigwam prices: this will be detailed on your course confirmation.
If you wish to stay somewhere different, Aviemore is a short distance away and it has all the usual amenities such as a huge number of accommodation options, supermarkets, outdoor gear shops etc.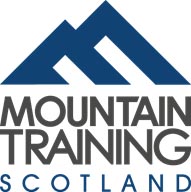 COURSES APPROVED BY MOUNTAIN TRAINING SCOTLAND
WINTER MOUNTAIN LEADER TRAINING
The 6 day training course provides instruction in both personal and leadership skills relevant to winter mountain walking, with an emphasis on the management of groups in mountainous terrain. All elements must be attended by the candidate. Topics covered are as set out in the mountain training board syllabus, but will include areas such as navigation, route planning, avalanche prediction, axe and crampon techniques, security on steep ground, belaying skills, emergency shelter construction, party leadership and personal and group equipment selection and use. A 2 day 1 night, expedition will be undertaken during the course, and the night will be spent in a snow hole. This course may also be attended by summer ML holders who wish to obtain a high standard of winter skills training without going on to the assessment element.
DATES AND PRICES
WINTER MOUNTAIN LEADER ASSESSMENT
This 5 day course is for candidates who fulfill the syllabus requirements for assessment. The first 2 days will concentrate on general winter skills and leadership issues, including steep ground techniques. Days 3 to 5 are spent on expedition with 2 nights out in the hill, looking at navigation, leadership, party management and other syllabus-related topics.
DATES AND PRICES
WINTER MOUNTAIN LEADER RE-ASSESSMENT
Reassessments are arranged on dates to suit. Please contact us for available dates, along with the details of your reassessment requirements.
COST: £240.00
BOOK NOW
WINTER MOUNTAIN LEADER REFRESHER
This 1-day course covers a number of the aspects that will have been taught during the WML training course, and allows for for appropriate consolidation of skills. It is ideal for anyone who has left a long period of time between training and potential assessment, for those who have gained exemption from training and for anyone who just wishes to ensure that their winter skills are at the required standard. It is also suitable for those that have winter skills but wish to ensure that they are at a good standard: note that this day is based on the WML syllabus and is not a beginner's course. Topics covered include navigation but with an emphasis on ropework, security on steep ground, belaying, emergency shelter construction, axe and crampon techniques and avalanche prediction.
COURSE ONLY: £85.00
BOOK NOW
WINTER MOUNTAIN LEADER REFRESHER 1:1 RATIO
This is just like the WML refresher course but  we would chat with you beforehand to see what skills you particularly wish to brush up on and tailor-make the course to suit.
DATES: To suit: please contact us for the latest availability.
COURSE ONLY: £260.00 PER DAY
BOOK NOW