ROCK CLIMBING INSTRUCTOR (RCI) AWARD
The RCI, or Rock Climbing Instructor award, is a nationally recognised qualification for those wishing to supervise individuals and groups top and bottom roping, abseiling and using artificial climbing structures. The RCI Award is administered by the MTUK through home nation boards. As a nation-wide award, it is quite acceptable for those registered with, for instance, the MTE to be trained and assessed by an MTS registered provider. It is also fine to be trained and assessed by the same provider. Registration on the scheme is a pre-requirement for the courses.  We use the superb crags in the north-east of Scotland, with the base generally being at Grantown on Spey, just north of Aviemore.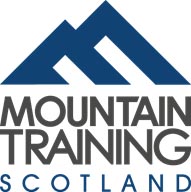 COURSES APPROVED BY MOUNTAIN TRAINING SCOTLAND
ROCK CLIMBING INSTRUCTOR (RCI) TRAINING
The RCI training course is run over three days, with a total of 24 hours of training contact time. It covers a variety of relevant skills and both personal climbing and group session techniques will be covered, as will the use of climbing walls.
As a very rough guide, day one is spent at a climbing wall looking at a variety of indoor-related topics such as personal climbing, bouldering and working with groups, day two is spent on a crag looking at personal climbing and abseiling and day three is spent at a different crag looking at group climbs and abseils. Full details of the topics covered are available in the RCI syllabus.
DATES AND PRICES
RCI ASSESSMENT
This course runs over two days and tests the candidate on a variety of syllabus-related topics such as personal climbing and abseiling skills, group climbing activities, the avoidance and solving of common climbing-related problems, etc.
DATES AND PRICES
RCI RE-ASSESSMENT
One-day re-assessments for deferred candidates are arranged to order and are usually on a one-to-one basis. You do not have to have been originally assessed by us to attend a re-assessment here.
Price: £220.
RCI REFRESHER/SPA to RCI UPDATE
We have a number of dates for this year, covering all of the technical skills and problems that are useful to know as either a current RCI/SPA holder or for someone heading towards assessment. These popular courses are 1 day long, and will include a full personal debrief at the end of the day.
EXPERIENCE: Completion of an SPA training course or for those with exemption. Also suitable for RCI and SPA holders looking to keep current.
RATIO: 1:1 to 1:4.
£220.00 for 1 up to 4 people
BOOK NOW
UKMTB MODERATORS REPORT
All registered providers have to adhere to certain guidelines set out by the MTUK. To ensure continuity between providers, moderators observe courses on a regular basis. Below is an extract from one of our moderation reports:
"The day covered aspects of the syllabus such as multiple anchors, top and bottom roping, abseiling and group management. All were well covered at an appropriate level for both the candidates and the award. I was pleased to see a lot of candidate involvement and the chance for them to set up and discuss group climbing equipment and abseiling situations. The course also inter-acted in a very positive way with other crag users. In short this was a good course well delivered with plenty of time spent on the important basics but at the same time offering a range of suitable techniques. The fact that no time was lost over lunch or other breaks was good and ensured maximum use of time."