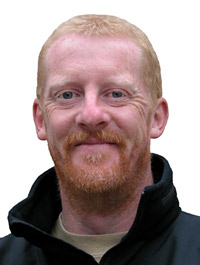 PETE HILL WMCI FRGS
Pete is holder of the Winter Mountaineering and Climbing Instructor qualification, the highest UK instructional award, past Chairman and Honorary Life Member of the Association of Mountaineering Instructors, a member of theMIC.org (which only admits MIC's operating at the highest levels), as well as past President of the Mountaineering Council of Scotland. Previously an associate member of staff at Glenmore Lodge, he has led mountaineering expeditions to the Indian and Nepalese Himalaya, and was leader of an international expedition to Kashmir which made the first ascents of three previously unclimbed peaks. Notable Alpine ascents include the North Face of the Eiger and the North Face of the Matterhorn, both in winter, as well as a lot of eminently more sensible routes! A member of the Alpine Club and Fellow of the Royal Geographical Society, he is a course director for Mountain Training Scotland. He is joint author of the globally successful "The Mountain Skills Training Handbook", author of five other books and enjoys leading groups to various corners of the world, from deserts to mountains to rain forests. Pete is also a member of the volunteer disaster response group 'Team Rubicon'.

COURSE INSTRUCTORS
All staff employed by us will be personally known to us and be experts in their subject. They will be working to strict guidelines which will ensure that you gain the maximum benefit from your course. We also work to the National Guidelines as set out by the Mountain Leader Training Board UK which sets the standards for mountain sports instruction in the UK. To see a number of our associate staff, click here.
THE ASSOCIATION OF MOUNTAINEERING INSTRUCTORS
The AMI is the representative body of professionally qualified Mountaineering Instructors in the British Isles. It is committed to improving the image and guaranteeing the quality of all mountaineering instruction in the UK. Only instructors holding the top MIA or MIC qualifications are permitted to display the AMI logo.
TheMIC.org
TheMIC.org is made up of a group of fully qualified MIC holders who are operating at the highest levels required for the award. On top of this, members need to demonstrate that their personal skills are of the highest order, and a long list of high-grade winter climbs needs to be submitted, backed up by two referees, before being accepted for membership
TECHNICAL EQUIPMENT
If you are taking part in an NGB course, such as an ML, RCI etc, you will most likely have the majority of equipment needed. We are happy to supply certain items if you do not have them, and details of this will be given on your course confirmation.
For all other courses run by us, all that you need to provide as a participant are boots and personal clothing. All other specialised equipment, be it ice axes, crampons, helmets, ropes or whatever, are provided by us for use during the course at no extra charge. If you have your own equipment that you wish to use, such as an ice axe, then please feel free to bring it. If you are not sure of the suitability of your equipment for any given course, or wish to purchase some new piece of equipment, then please do not hesitate to get in touch with us for advice – we're here to help!
RATIOS
The ratios entered under course descriptions are our MAXIMUM instructor to client ratio, and are some of the lowest in the UK. These are often further reduced at the start of a course. Note that we are governed by MTUK regulations re ratios for NGB courses – details of these are available in the relevant syllabus.
WHAT THE PRICE INCLUDES
The course price includes instruction, use of all specialised equipment and any relevant course handouts.
EXPERIENCE
Under each course entry on the website is a note of experience required. As the majority of courses are NGB (ML, RCI etc), any guidance should be taken from the syllabus.
COURSE ACCOMMODATION
Details of accommodation options will be provided with your course confirmation email. Many options exist in the area, from the best hotels through to camping and self-catering. Badaguish, which is our base for summer and winter ML courses, also offers various accommodation options on-site.